by: Dan Moder, Executive Director,

Greater Licking County Convention & Visitors Bureau
Quite often I am asked what the state of the tourism industry is in Licking County and Ohio and my answer is always the same..."It's good."
In 2013/2014 the state of Ohio reported that Ohio tourism spending generated 38 billion dollars in sales and created nearly half a million employment opportunities. In fact, the state reports that employment growth in key tourism industries grew two times faster than total employment and contributed to a 9.4 billion dollar income base for those employed. In Licking County we saw very similar tourism trends and ended the reporting period with a 356 million dollar annual purse and employment of one in every twelve. This makes Licking County the third largest tourism revenue generator in the twelve counties that comprise Central Ohio..."It's good."
The second most often asked question is "Why are we number three in the region?" Again...my answer is always the same..."Look around you; we have an amazing landscape filled with interesting things being curated by interesting people. People want to be a part of that energy and creativity."
It doesn't hurt either that our close proximity to the capitol city makes us a natural choice for a day trip or weekend getaway. Geographically we are located just thirty minutes from a million people who are looking for a respite from the craziness of city life while making an emotional connection with the fabric of our smaller communities. I think as residents of the county, we sometimes get in the rut of "hometown syndrome," and we forget how really amazing we are. It happens to the best of us, even yours truly. To get ourselves out of the "syndrome" all we have to do is really look in our backyards to understand why the visitor wants to spend some time with us. We are re-thinking, re-imagining and re-investing in ourselves. Who doesn't want to be a part of that? The present state of affairs in the county are good, but the next five years will see us go from good to great.
Community leaders in Newark have found a way to re-imagine the courthouse square and are actively moving forward with plans to make our county seat a destination complete with entertainment venues, loft housing and great retail and food and beverage outlets. The Buckeye Lake region is re-thinking how they will transform themselves into a premier summer destination that is safe, fun and solid for generations to come. Granville has taken a page from the re-investment play book and staked their claim up and down Broadway, proving once again that the Village is the best of the best in the Midwest. Things are happening here and it is an exciting time.
In five years' time, when I am asked about the state of tourism in Licking County, my answer will be slightly different..."It's great...to be us!"
MARKET THEMES CONTINUE THROUGH SUMMER
Solar in Licking County
: Join us Saturday, July 11th at the Farmers Market for a special exhibit on solar energy strides being made in
Licking County. You'll learn about the economic and environmental benefits of solar, advances in the technology and affordability of solar energy, and how to determine whether solar is the right fit for your business or residence. You'll also hear about current efforts underway to install solar panels for the
YES Club
(a Program of Mental Health America of Licking County) in downtown Newark!
Tomato Taste-Off
:
We want you...to pick your favorite Tomato! Mark your calendars now to participate in the first (annual?) Tomato Taste-off at the Granville Farmers Market. On
Saturday, August 1st,
Market customers will have the opportunity to vote for their favorite tomato variety. Free samples of a wide array of tomatoes will be available and you, the buying public, will have the chance to choose the best of the best. This is not a competition between vendors - rather, it's an effort to identify the most popular tomato varieties. This will help consumers decide which tomatoes to buy, and, in turn, it will help vendors and growers determine which varieties to plant in the future. Everyone wins and we'll have some fun in the process!
Weds., July 15 GACC GENERAL MEETING

The July Membership Meeting will feature a presentation by Dan Moder, Executive Director of the Licking County Convention & Visitors Bureau, on "The Economic Impacts of Tourism."
Lunch will be provided by Bob Appetit Food Services.
When: Wednesday, July 15, 2015, 11:30am-1pm in
The President's Dining Room, Huffman Hall, Denison University. To register,

click HERE.
For the fourth year in a row, the Village of Granville will again host an annual gathering of approximately 350 Porsche owners and their cars during the Mid-Ohio Region Porsche Club of America's P2O Casual Porsche Party and Car Show. The show itself occurs on Saturday, July 25th and cars will be on display on portions of Broadway and Prospect Streets. This event benefits designated cancer charities and the Christopher Carlson Foundation specifically (learn more at
http://christophercarlsonfoundation.org/
). The weekend's activities will include a welcome party on Friday evening and an organized drive on Sunday. For more information about the event please see
http://p2o.morpca.org/
.

Looking for detailed information on events from all around Granville? Would you like to stay up to date on all of the Village's important announcements? You should be using the Granville app - not only as a community member, but as a business owner. Updated daily, the Granville app provides a comprehensive events guide, business directory, and Village news section.




Download it now and see how it could help your business.


Glass and Clay Artist

371 N. Granview Road
Granville, OH 43023
(740) 587-1722
Catherine is a glass and clay artist who has lived in Granville, Ohio most of her life. She has been blowing molten glass and throwing pottery for 30 years and sells her pieces primarily at shows in Ohio. She has her own private pottery studio where she has offered art classes and camps to all ages since 1993. Find Catherine online at: www.tietzboring.com
226 E. Broadway
Granville, OH 43023
(740) POP-CORN
Ila's Gourmet Popcorn is fully stocked with new summer flavors for summer picnics and movie night. We are featuring red, white, and blue popcorn with or without white chocolate drizzle for the month of July. Specials include 10% off any combination of the patriotic mix. Jared Eschbaugh opened the shop after Thanksgiving 2014. We use "Ila's" candy coated base for our flavors. Ila is Jared's great-grandmother. We sell popcorn by the bag, in a basket or tin, and create popcorn bars for larger events including weddings and corporate meetings. Stop by Ila's Popcorn at 226 East Broadway. The shop is open Monday through Saturday 10 - 8, and Sunday 12-5.
1965 Newark-Granville Road
Granville, OH 43023
(740) 616-2049

The Skin Care Spa in Granville offers facials, tinting, waxing, paraffin and body treatments. Jennifer Nutter is a licensed esthetician and local owner/operator of the spa. To schedule or to find out more about the services offered, please call or text 740-616-2049. Hours are by appointment - daytime, evening and weekends are available. Waxing and relaxing...come and be your own beautiful at the Skin Care Spa!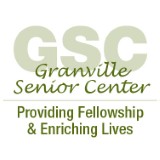 The Granville Senior Center is a grassroots organization that began over 40 years ago. Located in the Granville Business Park, the Granville Senior Center strives to provide varied, high quality programs and activities aimed to enrich the lives of Seniors in Licking County.
Fellowship is a priority, and we offer three light lunches a week (a pot of coffee is always brewing, too!). We also focus on Health and Wellness, Learning and Creative opportunities, and special events like Movie Nights, Dances, and Day Trips.
Our Executive Director is Leigh Ann Miller. Marci Hartness is our Assistant Director.Please feel free to stop in for a tour, and see what we are all about. We look forward to meeting you! For more information, contact Amy Bunyard, Community Outreach Coordinator, at 740-587-1333.
Find us online at www.granvilleseniorcenter.org and like us on Facebook!
2015 BOARD OF DIRECTORS


For a listing of our current board members and their backgrounds,
click here
.